Read all about it...
Manchester United are booed off after a bizarre game of football. They were hideous, and deserved to lose to a West Brom side who had won just one of their last 30 league games. Hell, bloody football and all that. City win the title with five matches to spare, which equals the Premier League record set by United in 2000-01. Congratulations to them and West Brom, commiserations to United. Thanks for your company, bye!
Full time: Manchester United 0-1 West Brom (Rodriguez)

It's all over. West Brom have won the Premier League!
90+3 min Yacob on, Brunt off for West Brom. He's been terrific today.
90+3 min Valencia's driven cross is headed straight at Foster by Smalling.
90 min There will be four minutes of added time.
89 min West Brom are defending their lead comfortably. Lindelof's nothing pass is headed away by Gibbs and lumped downfield by someone or other.
88 min "Sunderland 2006," says Mike Gibbons.
86 min United are struggling to go down with a whimper, never mind a bang. It's bizarre. They haven't been helped by a home crowd whose only noises have been groans and boos.
85 min Another West Brom change: Salomon Rondon is replaced by former footballer Daniel Sturridge.
84 min United have been tactically naive today, constantly trying to play through the middle even though the only space is out wide. They have hardly got behind the full-backs all day.
83 min The word 'shocker' feels inadequate to describe what United have had today. This is a desperate mess.
82 min "If last week's mugging wasn't frustrating enough for a City fan, are United are now going one better by not even allowing them to win it on the pitch?" says James Evans.
81 min United don't really look like scoring. West Brom's defending has been extremely impressive. McClean surges forward from the halfway line and lashes a cross-shot a few yards wide of the far post.
79 min Before today West Brom had won one of their last 30 league games, at home to Brighton.
78 min "I've seen both McLean & Lingard shout Foxtrot Oscar directly into the referee's face today within any punishment," says Niall Mullen. "I can only imagine what Buffon said to Michael Oliver."
77 min Nyom is finally booked for a hack at Martial.
77 min West Brom make a chance, with Matt Phillips replaced by Grzegorz Krychowiak.
76 min If it stays like this, Manchester City will be champions, and United will have completed a bizarre week in which they won away to the champions and lost at home to the bottom team.
75 min Marcus Rashford replaces Ashley Young. Don't ask me what formation United are now playing.
75 min Sanchez picks out Martial, who mishits a shot over the bar from 15 yards.
Hahaha, West Brom have scored! Brunt's deep corner from the right was headed back across the face of goal by the under pressure Matic, and Rodriguez arrived late to plant a stooping header past De Gea.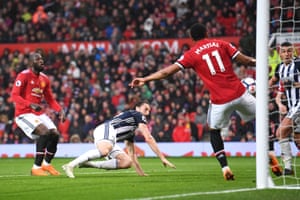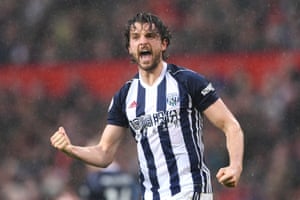 72 min The lively Rodriguez leads a three-on-three break and finds Phillips, who wins a corner. It would, let's be honest, be pretty hilarious if West Brom won this game.
71 min A draw today would not mathematically give City the title, though they would be 15 points and 30 goals clear with five games to play.
70 min West Brom are camped in their own half now. Mata plays an inviting square pass to Lingard, who slashes a shot just wide from inside the D. Lingard wanted a corner, and replays show that it did indeed deflect off Brunt.
68 min "I found United more fun to watch when they had an attack consisting of several talented and likable youngsters like Martial, Lukaku and Rashford," says Phil Podolsky. "The arrival of an ageing big-name mercenary in Sanchez made them less fun to watch for this neutral. I'm sure Jose will be fascinated with this tactical analysis."
66 min: Great save from Foster! That's more like it! Matic swings in a cross from deep on the left towards Lukaku, who bullies Gibbs and thumps a downward header towards goal from ten yards. Foster plunges to his right and just tips it away at full stretch.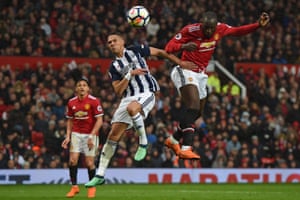 65 min "I'm obviously no fan of United, but I accept they have a weird public persona this season," says Matt Dony. "If someone were to base their knowledge purely upon thinkpieces, they would assume that Liverpool and Tottenham are comfortably above United in the league. It's hard to love Jose's style of football, but I've always loved him as a manager and a presence in the league (Although, I would HATE to have him at Liverpool). One thing that's been noticeable this year is, they've rediscovered the ability to come back. Ferguson's United hardly ever looked beaten; you always, always expected them to mount a come-back. Without being exciting, or even particularly consistent, they've had some of that steeliness this year. I respect them. Grudgingly. Bitterly. Annoyingly."
64 min Martial has looked lively since coming on, and Sanchez is still scurrying around relentlessly.
63 min "Bored," says David Flynn. "The most likely scorer in this game is Harry Kane."
62 min It's now pouring down at Old Trafford, the heavens weeping at the memory of a Giggs-Scholes-Keane-Beckham midfield.
61 min "Hey Rob," says JR in Illinois. "I'm finding this game very similar to that 5-5 game five years ago with the exception of the ten goals."
60 min Martial runs at Nyom, who shoves him over with all the subtlety of a ramraider. The free-kick leads to a corner which leads to sweet, sweet nothing.
59 min "Generally, if you say it's two good goalkeepers playing well, it would give the impression of a freeflowing open game," says Adam Roberts. "This fixture disproves that theory. I'd write more but the lethargy induced by watching this has overwhelmed me."
Embrace the lethargy. I'm so bored that I'm starting to get a kind of Valium high.

58 min A United change: Anthony Martial replaces Paul Pogba, who was poor.
55 min Pogba, already booked, shoves McClean over just outside the box. It wasn't enough for a second yellow card but he needs to be careful. The free-kick is a long way to the left of centre, and Brunt spanks it into the wall.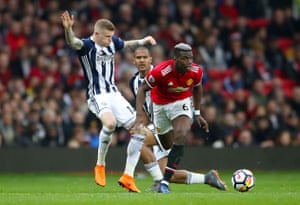 54 min This match is absolute muck.
53 min Mata whistles a 20-yard shot well wide.
52 min Imagine following that City comeback with this.
51 min "My United supporting friend also says that this team should get more respect," says Niall Mullen. "I think they do get respect but not a lot of love (like most Mourinho teams they are not that lovable). The respect is mitigated by the fact that they've essentially failed to trouble the scorers in the two big competitions despite spending a lot of dough & hiring a blue-chip manager. Also United fans asking for their team to get more respect is indicative of the post Fergie slide. I'm used to a bulletproof United swagger that doesn't really give a fig what people think of them. That seems to have disappeared."
49 min Lukaku isolates Gibbs, beats him with his 12th stepover and hits a low cross that deflects into the warm bosom of Foster.
49 min De Gea makes another comfortable save from a Rondon header.
47 min Lingard almost scores straight away with a shot that is crucially blocked in the kamikaze style by Dawson.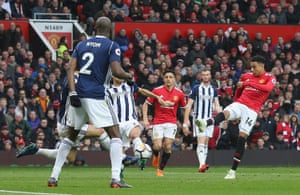 46 min United begin the second half. Lingard has, in fact, replaced Ander Herrera.
Manchester United have made a half-time change, with Jesse Lingard coming on to replace all 10 outfield players.
"If this game carries on in the same vein," says Ryan, "this MBM could be up there with Jacob Steinberg's fabled MBM of the FA Cup 5th round replay between Fulham and Sheffield United in 2014. Sometimes when I'm feeling down, I find that page in my bookmarks and remember that at least I'm not being forced by my employer to watch that terrible match. There's certainly a place beside it for another one, and you just might be in the process of suffering for this art."

"Watching Leicester in the 70s, there would sometimes be a quick break," begins Adam Roberts. "It would reach Jon Sammels on half way and he would put his foot on the ball, look around, slow the game, let the defence organise itself and lose all momentum. Paul Pogba's playing that role today."
He's got the keys to the kingdom but hasn't got time to use them because he's having too much fun on his smartphone.
"You said earlier that this United side deserves more respect; isn't this sort of game exactly the reason they don't get it?" says Nick Parish. "I expect they'll win comfortably 2-0 in the end, having survived a few scares along the way, but compare how City, Liverpool, Spurs or any of Fergie's great United sides would have put this West Brom team to the sword. That's how you earn respect."
Yep, fair point. I still think United/Mourinho deserve more respect for the fact they are above Liverpool and Spurs, but they didn't half test my remaining generosity of spirit in the first 45 minutes.
Half-time reading
Let us never speak of that half again.
45+1 min Pogba links up well with Sanchez and whacks a shot that deflects off Hegazi and over the bar. United have their first corner!
44 min Can you die of boredom?
42 min West Brom win the first corner of the match - and almost score from it. Brunt swings the ball beyond the far post to Dawson, who heads it dangerously into the six-yard box. There's nobody there for West Brom and Smalling hooks it clear.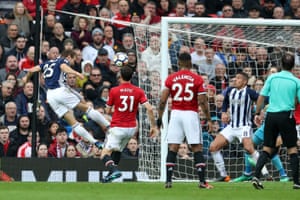 41 min "At LEGOLAND Windsor getting wet," says Ian Sargeant. "At least I'm not watching this match."