Over on Chatrier, Thiem has poked his nose in front of Nishikori in the fourth set. He leads 4-3, with two sets already in the bag. Presumably Zverev might pop over to take a look, because he will meet the winner in the last eight. The way's he's talking though, Zverev won't fear anyone.
Sascha speaks: "I'm young, so I might as well stay on court and practice a little bit ... It's the best, a five-set match. I've been down 2-1 every single time but I'm unbelievably happy to be into the quarter-finals. The draw doesn't get any easier and I have to see how it goes in the next few days."
Alexander Zverev, for the third straight match, wins in five sets. They embrace at the net but its the 21-year-old German who reaches his first grand slam quarter-final. He's into the last eight in Paris.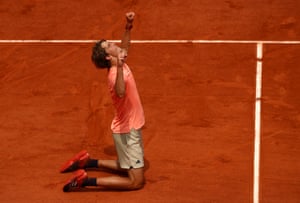 Zverev leads Khachanov 5-3 in the fifth set. He makes it 10 points in a row on serve before Khachanov, at last, manages to breakthrough. But once he pulls level at 15-15, he's unable to repel the No 2 from the tennis equivalent of opening up his legs and sprinting hard. The German is one game away one from clinching victory ...
A roaring "Come on!" from Khachanov, only seconds after he's a little guilty of overplaying, screwing up a high forehand volley with the court gaping. But, he's off the hook and edges to 3-4 in the fifth set. Away from Suzanne-Lenglen, Nishikori has nudged himself in front in the fourth against Thiem on Chatrier.
A thirsty Khachanov moves to within touching distance of Zverev once more, pummeling an ace beyond the German to get to 2-3. Without going all dramatic on you, this one's surely going to go down to the wire. Nishikori and Thiem, meanwhile, are level-pegging at 1-1 in the fourth.
After shipping the last four, Khachanov wins his first game of this fifth and final set, in which Zverev's 2-1 up. Whoever prospers here, you have to feel they are capable of doing some damage in the tail end of this tournament. On Chatrier, Nishikori has just won the third set 7-5 after almost two hours, that's after losing the first two.
Zverev looks to the heavens after toasting another supersonic rally, with a slamming backhand down the line. That tees him up at advantage, at which point he prospers. He's back in front at 1-0 in the fifth and he's straight back around the other side of Suzanne-Lenglen for more. For giant athletes, both at 6ft6in, they are shifting around court like gazelles. We are in for a stunning finale ...
This is a corking match – with only a Zverev medical time out delaying the fifth set on Suzanne-Lenglen. He's getting a bit of work done his left foot, a troublesome toe it seems (we've all been there). Elsewhere, Nishikori is having a good go at fighting back at Thiem. He's 5-4 up in the third.
A third five-setter in a row for the German. He has a knack for doing things the hard way and, on that evidence, he seems to have more left in the tank. Khachanov was a little sloppy doing the basics and he's been punished. He'll need to dig deep – and dip into the energy reserves – to edge himself back in front here.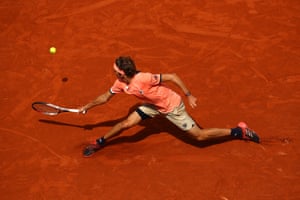 Zverev's huffing and puffing, cursing and yelling. Yet a coaching warning revs him up to prosper at deuce and to a third straight game over Khachanov. The German punches the air in delight, with a nod to Alexander Zverev Sr to boot. It looks as though we are heading for another helter-skelter five-setter. He's another game away from taking us there ...
Over on Phillipe-Chatrier, Dominic Thiem is ripping his way through his meeting with Kei Nishikori. He won the first 6-2, the second was a 6-0 whitewash and though he trails in the third, he's now back on serve. The Austrian was semi-finalist in Paris in 2017 and 2016.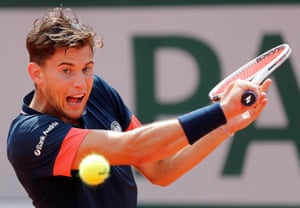 ... but Zverev ups the ante to keep his nose in front in the fourth set. A flurry of hard-hitting serves and then a cute volley at the net plunge Khachanov into trouble and the 21-year-old German comes out the other end of a challenging game. He trails 2-1 but leads 2-3 in a seesawing fourth set. Who will win it?
Karen Khachanov has just pulled level at 2-2 in the fourth set. The Russian's body language is very low-key, while Zverev is looking agitated. Zverev's serving is beginning to look a little wobbly and Khachanov can take advantage here at 40-15 to break and go 3-2 ...
A reminder that Madison Keys breezed through to her first quarter-final at Roland Garros a little earlier. She sealed a straight sets win over Romania's Mihaela Buzarnescu with an ace on her third match point. "Hopefully big things can happen here," Keys said. She will pit her wits against the winner of Barbora Strycova or Yulia Putintseva – who meet on Suzanne-Lenglen after Khachanov/Zverev – in the last eight. Caroline Wozniacki, the No 2 seed and US Open champion Sloane Stephens are also vying for a spot in the last eight, against Kasatkina and Kontaveit respectively.
He races to 40-0 and wraps up the third in a little over half an hour. The wheels have seemingly come off for Zverev, who has it all to do again. So, we're 6-4, 6-7, 6-2 ... who will come out on top? Another player who is up against it at the moment is Kei Nishikori, who trails Dominic Thiem 3-0 in the second after a demolition job in the first.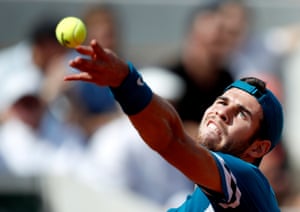 A double break for Khachanov over Zverev, whose clean and crisp backhand down the line is the only thing troubling the Russian at present. Khachanov leads 5-1 in the third ...
Things are looking dandy for the No 7 seed on Chatrier.
Khachanov has just broken Zverev again. He's 2-1 up on Suzanne-Lenglen in the third. The German could do with sticking around at Roland Garros – given they've just closed Hamburg airport owing to a power failure. Force has not been a problem for Zverev here, though – just erratic.
Elsewhere, Dominic Thiem is out on court and in the groove against Kei Nishikori on Phillipe-Chatrier. He's 4-2 up in the first. Khachanov has just cancelled out Zverev taking the first game of the third set. Zverev needed that last set, given he's never come from two sets down to win. As for later, the Williams sisters are in doubles action, while Novak Djokovic will take centre stage against Verdasco.
A drawn out puff of the cheeks at the end of a marathon tie-break says it all. He gets through 7-4 in the end, after an impressive show of stamina. His movement, particularly impressive for a 6ft6in athlete outwits Khachanov and his power is ultimately too hot for the Russian to handle. A walloping 200km/h ace helps him up to 4-2 before setting the seal – Zverev is a real animal on court. That fascinating set has whipped up the crowd on Suzanne-Lenglen.
Khachanov and Zverev go to a tie-break. We've just had a preposterous rally, with the German's ridiculous forehand almost finding its way in. They're level-pegging at 6-6 (1-1) ...
Another game, another clenched Khachanov fist. He's won three games on the trot to move to within touching distance of taking the second set. He's at 6-5 but 0-30. To do so, he'll have to break Zverev.
Khachanov breaks Zverev to move to 5-5 in the second. After eight long minutes, in which Zverev squandered three set-points, Khachanov toils with the 21-year-old, hitting a rasping forehand to tee up another knockout blow. Zverev's decision-making has been questionable – he's allowed Khachanov to stay in games he should have wrapped up – but kudos to the Russian, who has kept a cool head amid the chaos.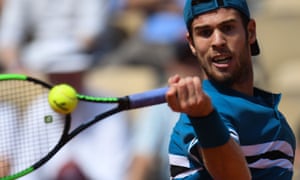 Zverev's tail is up again; he's ploughing through the second set. He's won 12 points in a row, out of nowhere really. He's 3-5 in the second after falling to Khachanov in the first. The Russian is serving ...
The American hit a brick wall halfway through the second but she's through to the last eight – her first quarter-final at Roland Garros – after dispatching the Romanian in 64 minutes.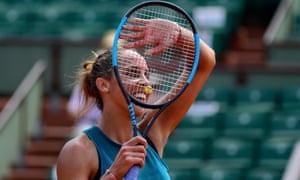 Zverev has been effing and blinding out on court; het up at his performance so far. A sloppy backhand gifts Khachanov a way back in and then a sticky drop shot helps the Russian to deuce. His shot selection seems a little erratic and Khachanov prospers, with Zverev failing to seize two break points. He's 3-2 up in the second.
Madison Keys, the 13th seed, is cruising through to the last eight at Roland Garros. She's 6-1, 5-1 up against Mihaela Buzărnescu on Phillipe-Chatrier. The US Open finalist ought to have that one done and dusted inside around an hour. Light work.
Straight to Suzanne-Lenglen, where Alexander Zverev eventually came unstuck in the first against Khachanov. He had already survived two set points at 5-4 down to limp to deuce but eventually a sloppy forehand plays into the Russian's hands and Zverev has work to do if he's to prosper.
Another stonking day of tennis is already under way in Paris, where a couple of heavyweights are in action; grand slam-loving Novak Djokovic and Yorkshire-loving Alexander Zverev, no longer the new kid on the block. Zverev is already out on court against Karen Khachanov on Suzanne-Lenglen, while Madison Keys is a set up against Mihaela Buzărnescu.
Yesterday's action was jolly good fun; Serena Williams made light work of Julia Görges, not long after Rafa Nadal did likewise with Richard Gasquet. Here's Kevin Mitchell's verdict on day seven:
Court Philippe Chatrier
Madison Keys (13) v Mihaela Buzarnescu (31)
Dominic Thiem (7) v Kei Nishikori (19)
Anett Kontaveit (25) v Sloane Stephens (10)
Novak Djokovic (20) v Fernando Verdasco (30)
Court Suzanne Lenglen
Karen Khachanov v Alexander Zverev (2)
Barbora Strycova (26) v Yulia Putinsteva
David Goffin (8) v Marco Cecchinato
Daria Kasatkina (14) v Caroline Wozniacki (2)